UPDATE: West Virginia Has Worst Funded Teacher Pension Plan in Nation
Print This Post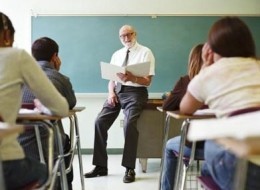 The West Virginia Teachers' Retirement System is worst funded pension plan in the nation according to a new study released today by the Manhattan Institute and the Foundation for Educational Choice.
The study, titled "Underfunded Teacher Pension Plans: It's Worse Than You Think," estimates that only 31 percent percent of the the state's Teachers' Retirement System is funded. West Virginia is followed by Illinois, Oklahoma, Indiana, and Kansas respectively.
The District of Columbia, New York State, and Washington State, and state employee retirement systems in North Carolina and Tennessee are listed as winners in the study, funding their teacher-specific plans at 75 percent or more. But teacher pensions plans for all 50 states face approximately $1 trillion in liabilities, even though most states don't include much of this debt on their balance sheets.
Authors Josh Barro and Stuart Buck found that while states were on listing their teachers' pension liabilities at $332 billion, the true liability is $933 billion when applying private sector-style discounting. From the press release:
"States are already caving under the pressures of the recession and this is bad news for governors and state legislatures," said Robert Enlow, president and CEO of the Foundation for Educational Choice. "Every dollar in the red ink column for pensions is one less dollar that is used to educate children."

"This report makes clear that it will be even more difficult than previously thought for states and school districts to honor pension benefit promises to teachers – without putting actual classroom services at risk" says Howard Husock, vice president of policy research at the Manhattan Institute. "Taxpayers and beneficiaries alike need to know the extent of that unfunded liability, however – and this report is an important contribution to that understanding."
David Haney, Executive Director of the West Virginia Education Association, couldn't comment on the study since he hadn't read it yet. However, he says the state has come a long way in funding the Teachers' Retirement System, pointing to the $4.2 billion in assets in the fund today. Haney also says the Investment Management Board was a big help to the fund, and the West Virginia Legislature often directs surplus funds to the retirement fund.
"We have made huge progress, continue to make progress, and the state is on track," said Haney.
West Virginia Watchdog contacted both the West Virginia chapter of the American Federation of Teachers and Gov. Joe Manchin's office for comment. We'll include their comments as we get them.
UPDATE: Gov. Manchin's Communications Director, Matt Turner, sent in the following response:
That is not an accurate depiction of our unfunded liability with TRS. We recognize that TRS is not as well funded as we would like it to be, but the way those figures are construed makes it appear much worse than it is.

Since 2005, Gov. Manchin, working with the Legislature, has dedicated nearly $2 billion toward unfunded state pensions and debt. The extra commitment we made to paying down unfunded liabilities in retirement funds has saved West Virginia taxpayers millions of dollars.

West Virginia is nearing the end of year 16 of a 40-year funding plan to fully fund its Teacher's Retirement system (TRS). Through the efforts of the governor and Legislature, the funding ratio of the TRS has improved dramatically from just 19.1 percent funded in 2003 to 51.3 percent  funded by 2007.

The state dedicated more than $1.48 billion in additional funds for the program between FY2005 and FY2007 from both surplus funds and the securitization of tobacco settlement proceeds. The state is allocating roughly 10 percent of its FY2011 budget toward the UAL in TRS under the assumption that past losses (in stock market investments) over the past couple years will not be made up in the near future. With the 40-year plan still in place and conservative budgeting, the West Virginia funding of TRS should continue to improve significantly in coming years.
The author's of the study recommend state implement honest accounting of the current cost of future benefits and shift to defined-contribution retirement plans for young employees. They also recommend cash balance plans and TIAA-CREF.
You can read the full report for yourself below:
Underfunded Teacher Pension Plans: It's Worse Than You Think
Related articles by Zemanta
Posted under Document, Education, Featured, Finances, News, Pensions, Transparency.
Tags: American Federation of Teachers, David Haney, Foundation for Educational Choice, Manhattan Institute for Policy Research, New York, North Carolina, Pension, Teachers' Retirement Fund, Underfunded Teacher Pension Plans: It's Worse Than You Think, United States, Washington D.C, West Virginia, West Virginia Education Association
3 Comments For This Post So Far
Trackbacks
Teacher Pension Plans in Kansas Among Worst Funded


[…] West Virginia Has Worst Funded Teacher Pension Plan in Nation, West Virginia Watchdog, April 14, 2010. Contact: Earl F Glynn, earl@kansaswatchdog.org, KansasWatchdog.org […]

WatchBlog: USA Today Shines Light on State Pension Crisis


[…] Read More – West Virginia Watchdog – West Virginia Has Worst Funded Teacher Pension Plan… […]